There's something magical about coming across a beautiful cascade of rushing waters in the forest. Lucky for us, there are so many stunning waterfalls in New Hampshire to add to your "waterfalling" itinerary. This area of the Great Lakes Region and the White Mountains is known for its scenery, and there are more than 100 waterfalls in New Hampshire of all shapes and sizes to discover, photograph, and add to your list.
Travelers have been seeking out these natural beauties since the early 1800s, coming from all around the country and beyond. And today is no different; we welcome thousands of visitors a year who want to hike and explore our gorgeous trails, rivers, lakes, and mountainous terrain—the waterfalls in New Hampshire are just the icing on the cake! Thankfully, there's a lovely selection of waterfalls near our lakefront bed and breakfast: Lake House at Ferry Point Inn.
Our lakefront bed and breakfast is situated on the beautiful shores of Lake Winnisquam and offers ten cozy and elegant guest rooms that reflect the area's beauty. Wake in the morning to the sun shining on the lake's sparkling waters. Join us for a beautiful breakfast, and you'll be fueled and ready to set off on your adventures. If you are looking for the best place to get away for a change of pace and scenery, you've found it! Reserve your room today.
Head to These Waterfalls in New Hampshire
The waterfalls in New Hampshire cover a wide array of stunning features—from towering cascades deep in the forest to short jaunts off a major roadway. Rivers and streams crisscross the state over mountains and valleys, resulting in more waterfalls in New Hampshire that could be discovered in one trip.
Thankfully, many of these waterfalls are located less than an hour's drive from our lakefront bed and breakfast, while others are a bit farther up in the beautiful White Mountain National Forest. During your stay, it's a fun day trip idea to head out and catch sight of a few of these natural wonders. Here are eight waterfalls in New Hampshire worth the drive: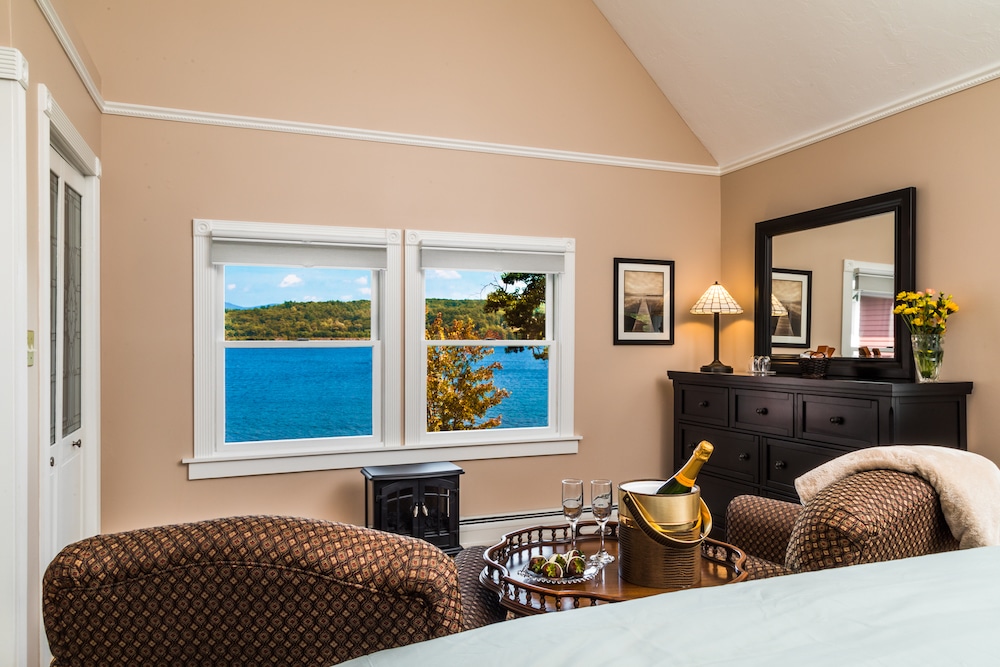 The Most Amazing Lakefront Bed and Breakfast
One of the best parts of heading out to view these waterfalls in New Hampshire is knowing that our peaceful lakefront bed and breakfast awaits your return. We're situated directly on the shores of Lake Winnisquam, which offers guests unparalleled lake access and all the fun that goes along with it. Enjoy kayaking and canoeing or just dipping your toes in the refreshing clear waters.
While our property is lovely to explore and soak up nature, you'll find curated, shared spaces to relax inside. Or retreat to your quiet and elegant guest room. All rooms are appointed with modern amenities on par with any of the big chain hotels in the area. You'll love to sink into your big cozy bed, enjoy a bath or shower in the beautifully equipped en suite baths, and curl up by the gas fireplace with a good book and a glass of wine.
In the mornings, there's no better place to wake up than our lakefront bed and breakfast in New Hampshire. The sparkling waters, the delicate aromas of coffee and breakfast being prepared in the kitchen, and our warm hospitality to start your day off on the right foot. We can't wait to host you this summer and beyond. Reserve your room today!