It's been such a wonderful and busy year, filled with guests staying at our romantic Bed and Breakfast in the Lakes Region of New Hampshire.  We can hardly believe it, but fall is here, and with that come fun activities like taking scenic drives on the Kancamagus Scenic Byway in New Hampshire. If you've never heard of the Kancamagus Scenic Byway or haven't had the chance to drive this beautiful stretch of road, you're in for a real treat this fall! There's plenty to love about fall in the Lakes Region, not least of which is leaf-peeping.
Fall is also a relatively short season here in the Lakes Region. We like to get outside the make the most of it before cold winter weather settles in. Though, arguably, once it does, our Bed and Breakfast gets exceedingly more cozy & romantic! Make the most of your adventures this year, and spend a few days with us at our romantic Bed and Breakfast.
We offer the only waterfront accommodations in the Lakes Region of New Hampshire, with easy access to the area's top attractions, like the beautiful Kancamagus Scenic Byway. Add to our unbeatable location upscale rooms, a delicious breakfast each morning of your stay, and welcoming hospitality, and you'll be hard-pressed to find a fall getaway that compares.  Don't miss out! Book your room today!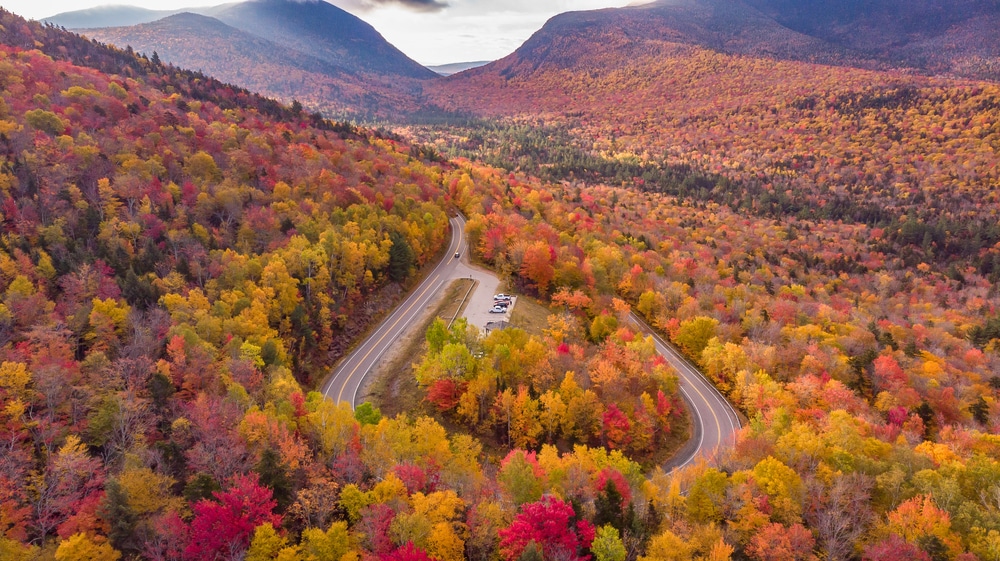 Tour the Kancamagus Scenic Byway This Fall
New Hampshire is one of the premier places in the country for leaf-peeping in the fall, and it's easy to see why.  New Hampshire's fall foliage season may be short, but it is gorgeous!  One of the best places to see fall foliage in all its glory is the Kancamagus Scenic Byway. It's one of the most popular fall drives in the country, and for a good reason.  Everywhere you turn, vibrant displays of fall colors transform these already beautiful landscapes.  They will leave you truly breathless.
The Kancamagus Scenic Byway is a relatively short 34.5-mile stretch of road between the New Hampshire towns of Lincoln and Conway.  The eastern-most point in Conway is a little over an hour northeast of our Lakes Region Bed and Breakfast. From there, head west on Highway 112, the stretch known as the Kancamagus Scenic Byway, and enjoy one of the most breathtaking drives you've ever taken. This incredible road will take you to an elevation of 3,000 feet, passing through some of the most scenic parts of the White Mountains.
As you travel the Kancamagus Scenic Byway, you'll pass the Swift River, Sabbaday Falls, Lower Falls, Rocky Gorge, and other top attractions. These waterfalls and viewpoints are absolutely worth stopping to see, and this is what can (and does) transform a relatively short drive into an all-day adventure!  There's also plenty of great hiking to enjoy along this stretch of road. We highly recommend you take at least one hike!
5 More Things to do in the Lakes Region This Fall
Last month, we wrote a blog about why fall is the best season to stay at our Bed and Breakfast. The colors, of course, have a lot to do with it!  Aside from driving the stunning Kancamagus Scenic Byway, here are four more spectacular reasons to plan a fall getaway to the Lakes Region this year.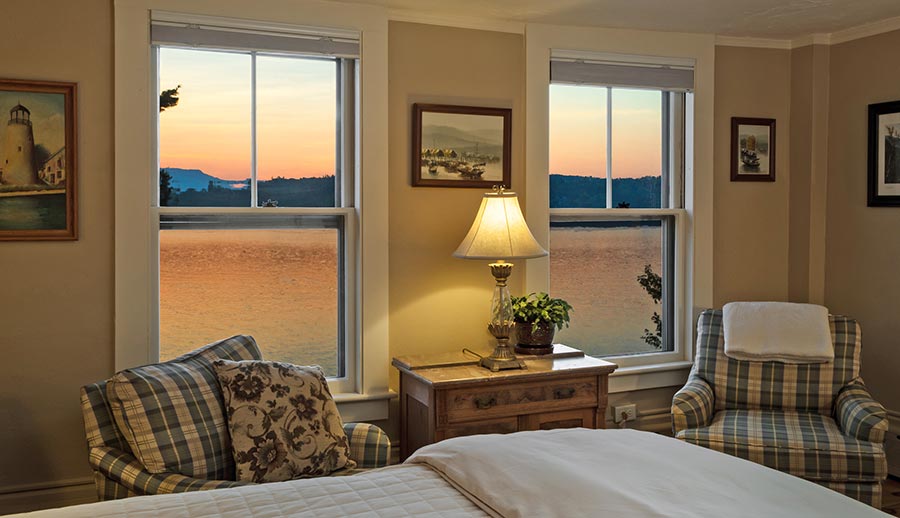 Fall Getaways at our New Hampshire Bed and Breakfast
Even if the only thing you do while here is to drive the stunning Kancamagus Scenic Byway, we know you'll become an instant fan of this beautiful part of the state. We're so confident you'll love it here that we imagine you'll discover a new favorite place to which you'll return time and time.  Of course, part of what will draw you back is the luxurious accommodations found at our Lakes Region Bed and Breakfast.
Add to these rooms the exceptional hospitality and amenities we provide, including a hot and delicious breakfast each morning of your stay, and we can't say we blame you for wanting to come back again and again! Each time you do, we're more than happy to help you plan an itinerary filled with activities – or relaxation – depending on what kind of getaway you want to enjoy.  Whatever you want, we'll help you find it right here in New Hampshire's Lakes Region. Book your room today, and explore the stunning Kancamagus Scenic Byway!