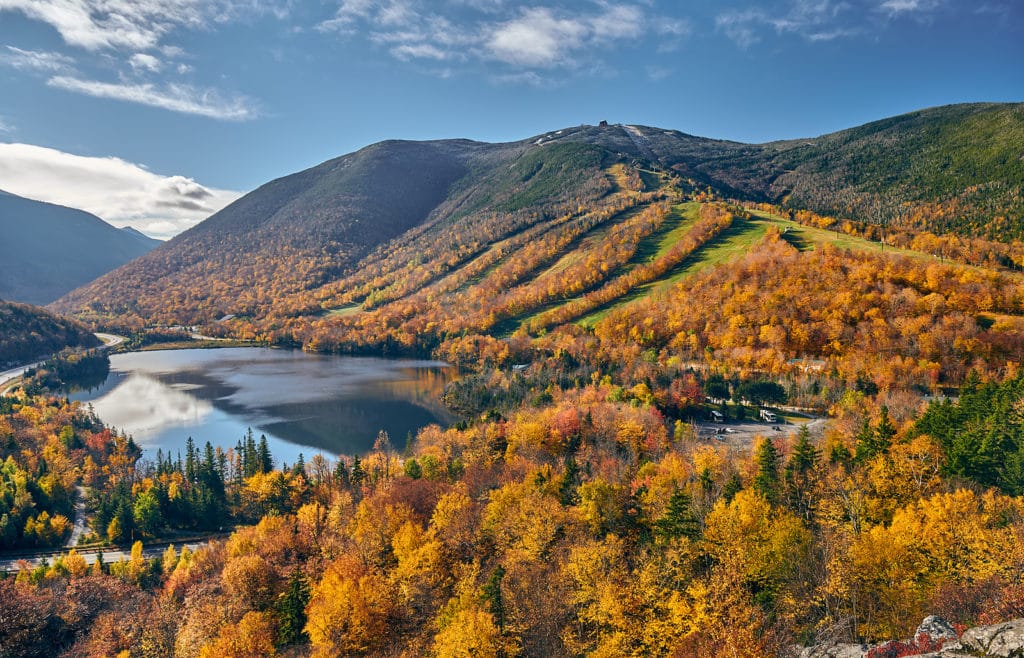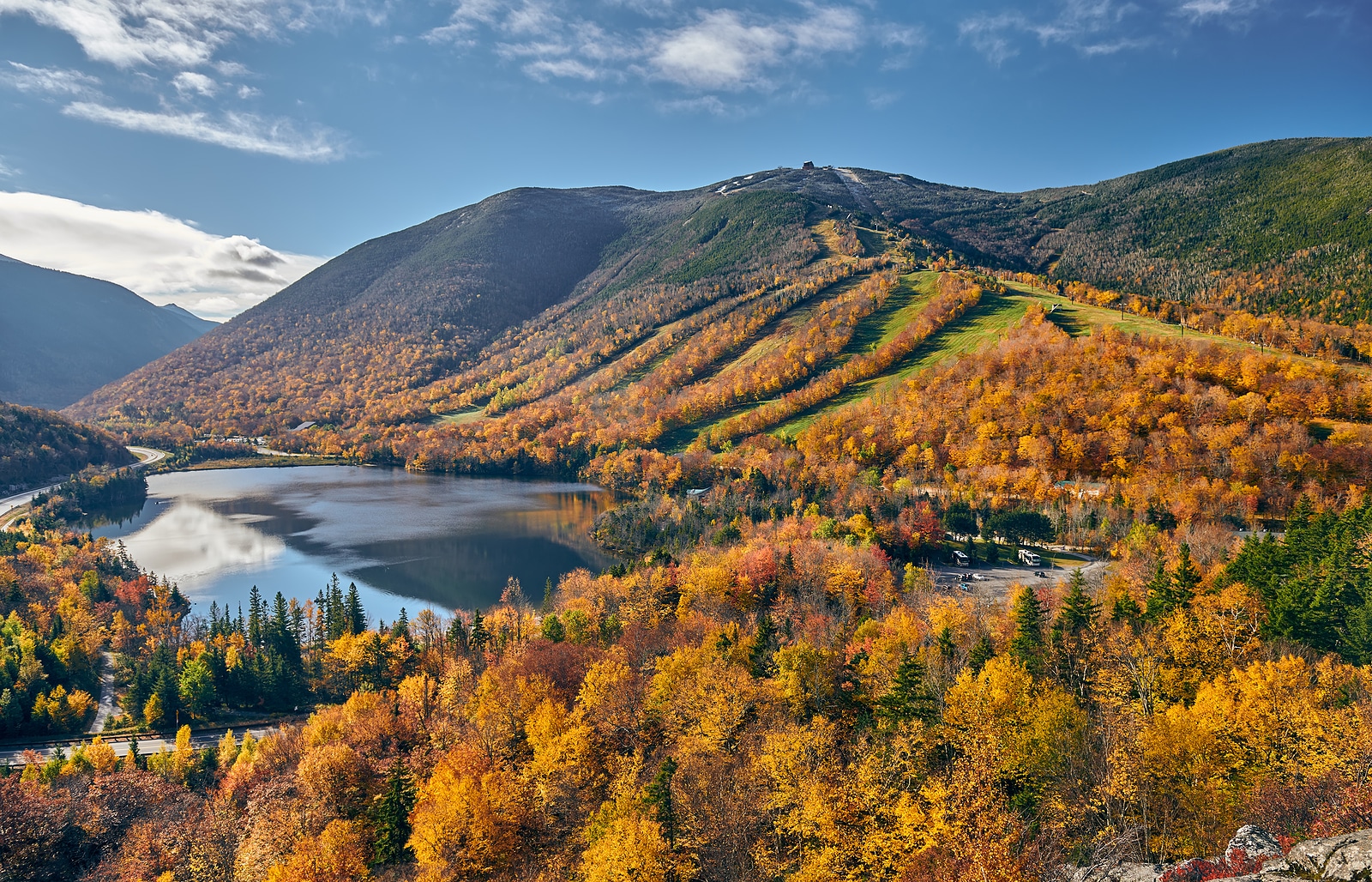 It's harder to believe this year than most, but summer is rapidly coming to a close here in the Lakes Region of New Hampshire.  Fall will soon be at our doorstep, bringing with it a stunningly vibrant display of fall foliage.  New Hampshire's fall foliage is something we look forward to every year. It's a season when the mountains get blanketed with the gentle glow of Autumn, with delightful shades of red, orange, and yellow replacing the uniform greens of spring and summer.
Our lakefront Bed and Breakfast, located in the town of Laconia and the shores of Lake Winnisquam, is a wonderful place to take in the colorful spectacle of fall foliage.  After a day of boating, hiking, mountain biking, and soaking in the fall views, our romantic Bed and Breakfast is the perfect place to relax and unwind.  We offer you a quiet hideaway amidst the hustle and bustle of fall in New Hampshire.  Fall foliage is as fleeting as it is beautiful, though, so make sure you book your room at our New Hampshire Bed and Breakfast soon!
8 Ways to Enjoy Fall Foliage in New Hampshire
The Lakes Region is a popular summer vacation destination, with the lakes being the biggest draw, of course.  And in winter, visitors flock to the area to ski at Gunstock Mountain Resort.  Even though there is plenty to do at these other times of the year, we think the most beautiful time to visit us in the Lakes Region of New Hampshire is when fall foliage is at or near its stunning peak of color.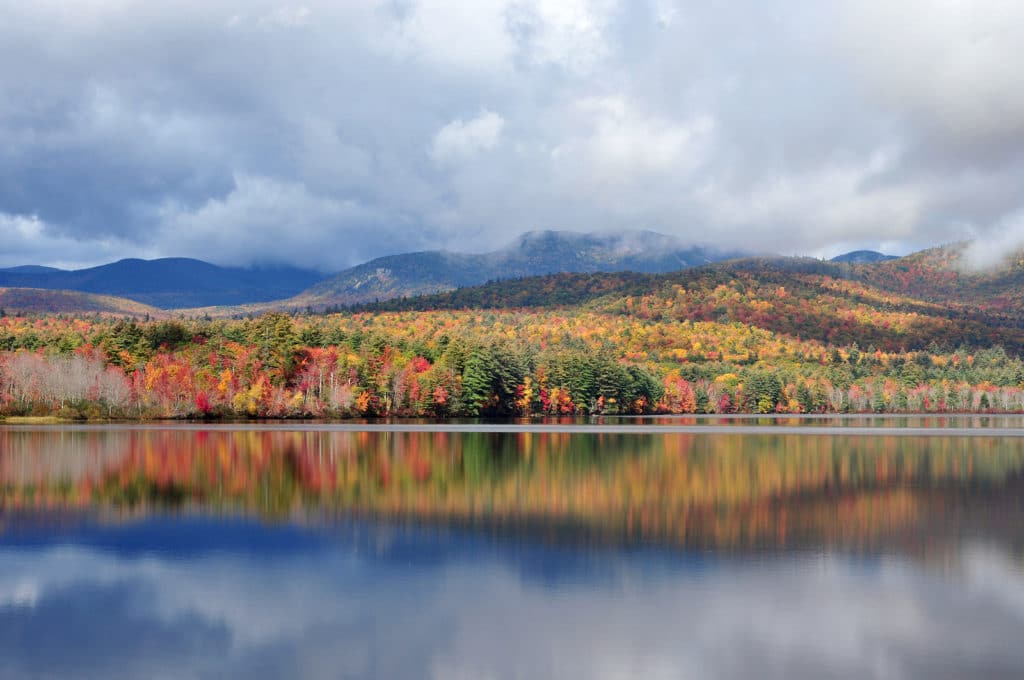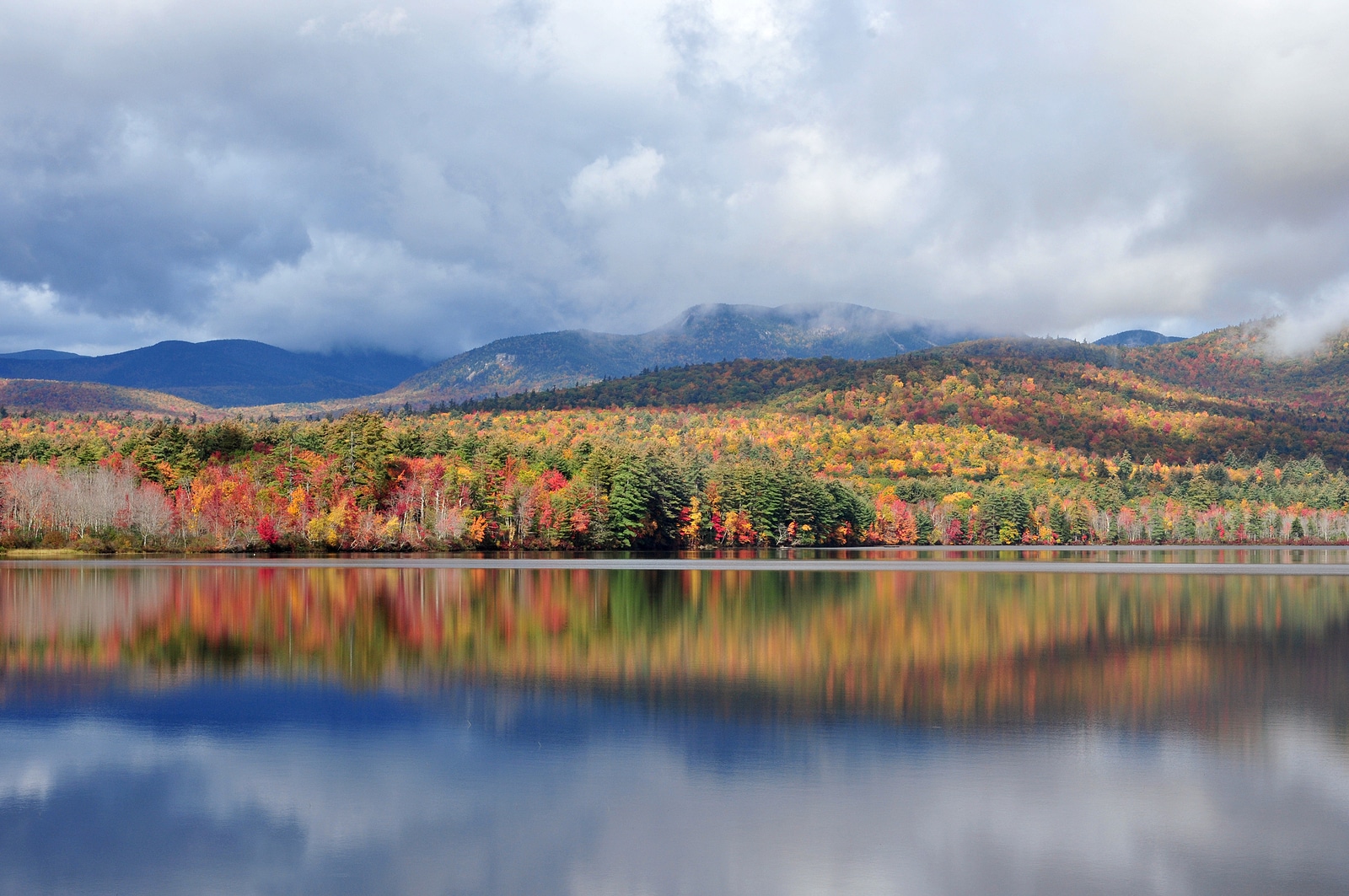 Fall is a time of year when you'll find locals and visitors alike out experiencing the best of this region, whether by biking, hiking, boating, and enjoying scenic drives through the surrounding forests and mountains.  And, of course, fall is a time to sit back, relax, and watch the brilliant colors of fall reflected in the calm waters fade into a dramatic sunset over Lake Winnisquam.
If you're looking to enjoy the very best fall foliage in New Hampshire, we have plenty of recommendations for you!  The peak of fall foliage season is somewhat hard to predict, but generally, if you visit in late September through mid-October, you're bound to enjoy a colorful vacation.  Here are our favorite things to do when it comes to enjoying fall foliage in the Lakes Region:
Kayak or canoe around any of the lakes, especially the peaceful waters of Lake Winnisquam.
Take a lake cruise on Lake Winnipesaukee aboard the Mount Washington. You can also take a lake cruise on the smaller but idyllic Squam Lake. This 90-minute Squam Lake Cruise includes viewing wildlife in addition to passing the famous "On Golden Pond" filming location.
Take a ride on the railroad – mountain views from high atop a trestle bridge are pretty hard to beat! The Winnipesaukee Scenic Railroad offers two tours that both specialize in the scenery afforded by New Hampshire's fall foliage. The first tour is 90 minutes and departs from Meredith, while the second 1-hour tour begins at Weirs Beach.

Hiking is always on our list of things to do in the Lakes Region, but during the fall foliage season is when it's at its most magical.  never goes out of season in the Lakes Region, but fall is the most magical. Our Innkeepers would be happy to recommend a hike for you, but a few of our favorites include

Rattlesnake Mountain, Mount Major, and Mount Cardigan.
There are plenty of delightful scenic drives to take in the area, too!  Many of New Hampshire's beautiful roads feature quaint covered bridges, charming small towns, breathtaking views from scenic overlooks, and much more. Add to this mix the brilliance of fall foliage, and it's a combination that's hard to beat.  A few of our favorite scenic drives include the famed Kancamagus Highway, the Pinkham Notch Loop

on the

Mount Washington Auto Road

, and the drive from Squam Lake to Lake Winnipesaukee, which

 also includes two historic covered bridges.

Take in the views from the top of Gunstock Mountain.  Right now, you can hike, bike, and fish at the famous ski resort.
Fall is a wonderful time for bird and wildlife watching.  Check out our blog for more information.
Enjoy the many waterfalls in the Lakes Region and the White Mountains just to the north of us.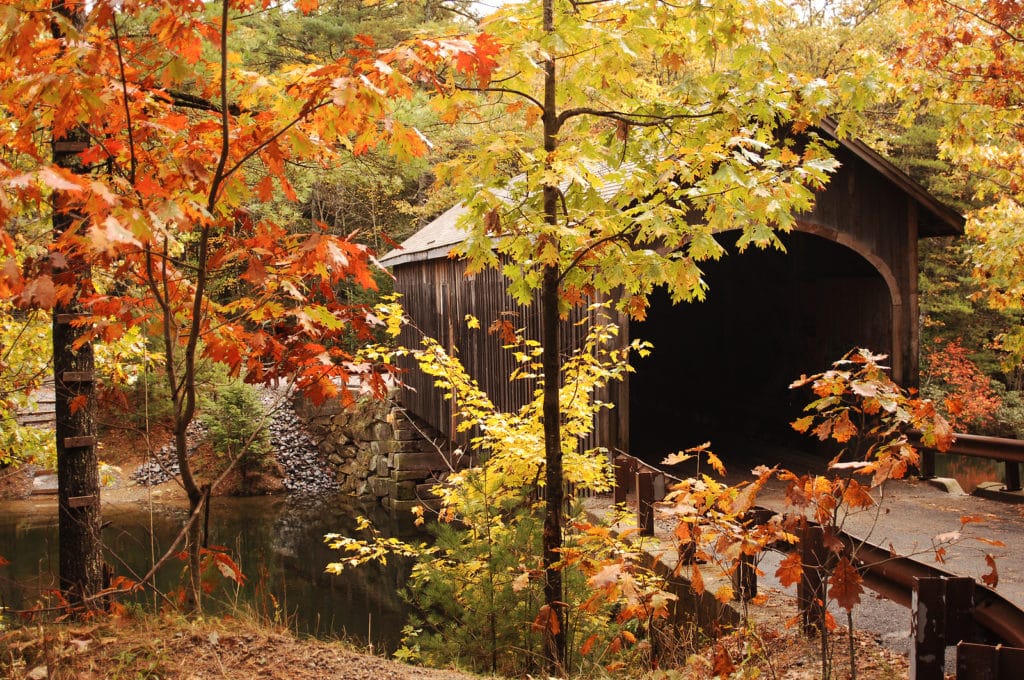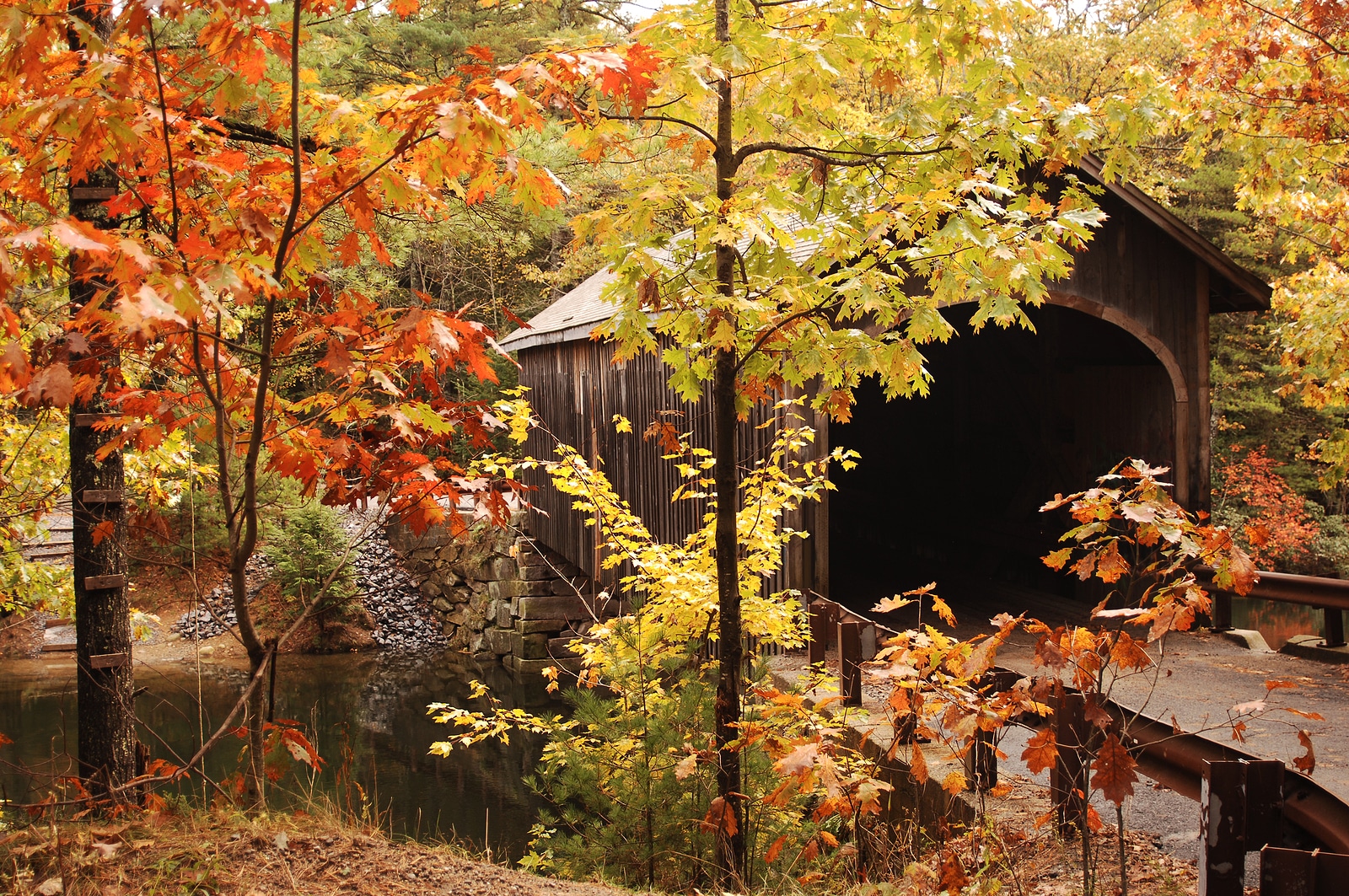 A Cozy Fall Getaway at our New Hampshire Bed and Breakfast
The Lakes Region, and by extension our luxury New Hampshire Bed and Breakfast, is at its most magical when the glow of fall foliage descends the mountains.  Fall is the perfect time to plan in a few days of pure relaxation.  Imagine your fall days filled with kayaking, hiking, and sunset-watching, all from the beautiful shores of Lake Winnisquam. 
Our New Hampshire Bed and Breakfast is the only lakefront property of its kind. With breathtaking views, 9 charming guest rooms and one private two-story attached guest house, and a delicious breakfast each morning of your stay, you'll want for nothing during your fall getaway.  With exceptional customer service and dedication to our guests, you'll see firsthand why so many people have made our Bed and Breakfast their special getaway destination.  Book your room at our New Hampshire Bed and Breakfast today!