It is summer in New Hampshire and the zucchini and summer squash is being harvested in droves.  But what to do with all of that squash?  Why not try the Lake House Summer Squash Frittata from the Lake House at Ferry Point

Here at the lake house we are always looking for new recipes, and sometimes we need to just create our own.  This recipe is a take off from a quiche recipe that I found at  myrecipes.com, which is a web site that I like to look at for recipe ideas.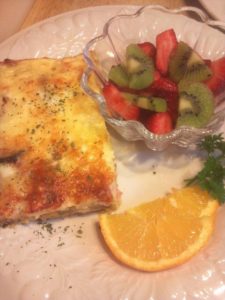 Ingredients:
3 cups sliced zucchini
3 cups sliced Summer Squash
2 diced shallots
2 C Mozzarella Cheese – Shredded
8 large eggs
2-1/2 C Whole Milk
1/8 lb prosciutto, sliced very thin and then diced
Olive Oil for sauteing
Salt & Pepper to taste
Thyme
preheat oven to 350°
grease an 9×13 glass baking dish
heat a large nonstick skillet over medium-high heat. Add oil to pan; swirl to coat. Add squash, zucchini, shallots, salt, pepper, and thyme; saute for 5 minutes or until squash and zucchini are tender, stirring frequently. pour cooked squash into glass baking dish and spread evenly (note: you may need to saute the ingredients in smaller batches)
scatter diced prosciutto evenly over squash
sprinkle shredded mozzarella evenly over squash and prosciutto
combine eggs and milk and beat with a whisk until well mixed
pour the egg mixture over cheese. Bake at 350° for 45 minutes or until filling is set. Cool a few minutes before serving.
Yield is 8 to 10 servings.
Substitutions:
Egg white for up to half of the eggs
bacon can be substituted for the prosciutto
I hope you enjoy making this as I did.  The Lake House Summer Squash Frittata from the Lake House at Ferry Point has now made its permanent place into the recipes that we will be serving and enjoying here at the Lake House.
ENJOY!
Quiche recipe can be found at http://www.myrecipes.com/recipe/squash-bacon-mozzarella-quiche-50400000113768/