I frequently get asked for recipes that I use.  One of the recipes that I am asked for most is our Cranberry, white chocolate & Pecan cookies.  These cookies are among the favorite cookie recipes at the Lake House at Ferry Point.  I make them frequently.  Guests rave about them, and so do the kids.
So here is the recipe for you to try and enjoy!
Preheat oven to 350 degrees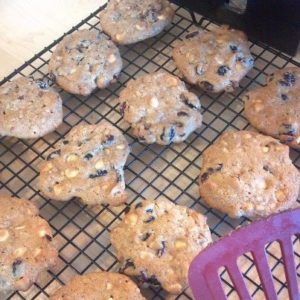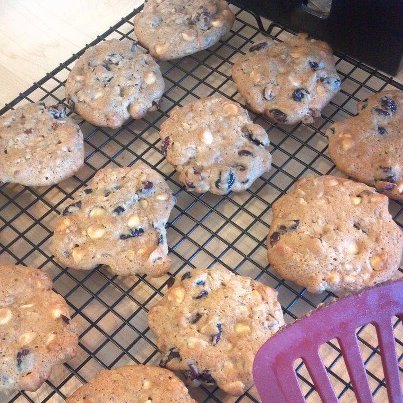 1-2/3 C all purpose flour
1 tsp Cinnamon
1 tsp baking powder
1/4 tsp baking soda
1/4 tsp salt
1 C butter, slightly softened (or use 1/2 C butter and 1/2 C margarine for softer cookies)
1 C packed brown sugar
1 Tbsp orange marmalade
1 egg
2-1/2 tsp vanilla extract
1-1/2 C chopped Pecans
2 C dried cranberries
1-1/3 C White Chocolate morsels
Stir together thoroughly the flower, cinnamon, baking powder, baking soda and salt
In a separate bowl, beat butter on medium until soft and fluffy
Add brown sugar and orange marmalade and beat until well mixed
Add the egg and vanilla extract and beat again until very fluffy
Slowly beat in the flower mix until evenly blended
Stir in the pecans, cranberries, and white chocolate until evenly spread
Drop dough onto cookie sheet covered with parchment paper
Bake 8-10 minutes, turning the cookie sheet at about the 5 minute mark for even browning
Allow cookies to cool a couple of minutes before transferring to wire racks to cool
Variations
Try with dried blueberries, or dried cherries
Can also try walnuts or almonds
Feel free to play around with this recipe and let me know if you come up with variations that you like better.
We want to acknowledge and thank our friends Helen and Mike at the Inn at Cape Cod for being the source of this great recipe.  We highly recommend The Inn at Cape Cod if your travels take you out that way.  After trying it, it couldn't help but become one of the Lake House at Ferry Point's Favorite Cookie Recipes!