Lake Winnisquam is one of New Hampshire's top fishing waters. It is home to many prized game species: lake trout, rainbow trout, landlocked salmon, bass, and huge white perch. Winter fishing for most of these means one thing– ice fishing!
Typically by mid-January, Winnisquam is iced over. Fishing from the ice provides access to most species and a unique perspective to the beautiful winter environment of the lake. During the winter months, fewer people are out on the lake allowing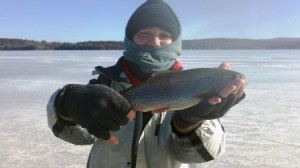 an opportunity to explore in relative solitude. Sunrises and sunsets reflected upon expanses of snow and ice can be breathtaking. Mink cavort in the rocky shoreline. Gulls and the occasional bald eagle patrol looking for food. At times, it is possible to stand in the sunshine on one end of the lake and view a passing snow squall on the other end – a dramatic sight!
Under the ice, Winnisquam is full of life. Cut a hole in the shallows and it's not unusual to see smelt dart past. And yes, those little fellows are pursued by some impressive fish.
There are two primary methods for ice fishing on Lake Winnisquam, both fairly simple. One can use a short jigging rod and reel (purchased at any n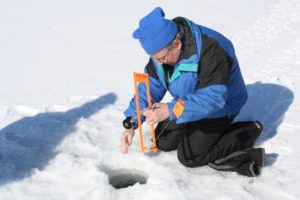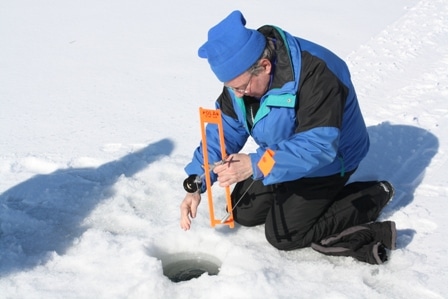 earby tackle shop) or you can simply use a "tip up". A tip up is a device containing a spool of line, hook, and strike indicator that can be baited and set in place. When a fish grabs the bait, a small flag "tips up" to indicate that a fish is on. Watch ice anglers on any given day and you will occasionally hear the cry of "Flag!" followed by a mad dash across the ice as they run to see what may be in store at the end of the line.
Here's an overview of Winnisquam fish species sought by ice anglers and how to catch them:
Rainbow Trout
NH Fish and Game stocks Winnisquam with rainbow trout and salmon. According to regulation, during winter, salmon are off limits to protect the population. However, the more abundant rainbow trout are a delightful alternative. Tending to cruise just under the ice looking for prey, rainbows frequently patrol the shallows. To fish for rainbows, set a tip up with bait suspended just under the ice. Live baits work best – a shiner, smelt, or worm work well, but many experienced anglers also swear by salmon eggs or "Powerbait" – a synthetic bait often formed to look like salmon eggs. It is not uncommon to see old timers "seed" several holes in the shallows with a salmon egg or two. They recheck holes and fish the ones where the salmon eggs have been picked up.
Lake Trout
These denizens of the deep tend to congregate around "structure", particularly drop offs and underwater cliffs. Figure on fishing in 30'-60' of water just offshore and present your bait close to the bottom. Again, the old timers use a jigging rod with a fairly heavy bucktail type lure, baited with a slab of bait fish. They lower the jig to the bottom and then alternately lift and flutter it to tantalize the trout to strike. A tip up with a live shiner presented just off the bottom is also a good bet.
White Perch
These fish, relatives of striped bass, cruise the lake in schools. Action can be on and off. Live bait suspended in the water column is good, but working a lot of holes in order to find the fish is a better strategy, as is using a jigging rod with a small jig tipped with a grub or worm.
Other species
Largemouth and smallmouth bass, yellow perch, and pickerel can be found in shallower areas, particularly places where there are weeds and in quieter coves off of the main lake. Go with live bait and tip ups for these guys. This is good fishing for kids; at times, you'll have plenty of flags!
The Great Meredith Rotary Fishing Derby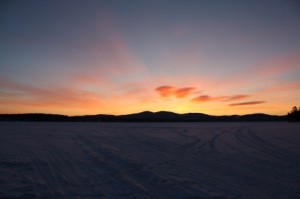 Every year, about the second weekend of February, is when this major annual event is held. Headquartered at Hesky Park in Meredith, on the shores of nearby Lake Winnipesaukee, the derby attracts ice anglers from all over the country and is open to the public. Thousands of dollars in prizes are awarded and the entry fees go to fund Rotary Club charities. Fish from all New Hampshire lakes can be entered and Winnisquam typically is abuzz with anglers hoping to catch the fish that will qualify for the leader board at headquarters. This is a fun event to participate in!
Ice fishing on Lake Winnisquam is a great way to beat cabin fever. It is an adventure best had with friends and family. Have fun, be safe and discover the wonder of Winnisquam in winter!
Before you go out
NH Fish & Game has a lot of information on ice fishing, most important of which is ice safety. Convention is that 4"-6" of solid bluish-black ice will support a group of well dispersed people. Test the ice with a chisel in several places before venturing out and always remember that ice thickness varies. New Hampshire fishing licenses can be purchased at local tackle shops and online at Fish & Game: www.FishNH.com
Nearby bait and tackle shops
Martel's Sport Shop, 49 Winnisquam Avenue, Laconia NH map
Winnisquam Trading Post, 1021 U.S. 3 Winnisquam, NH map
About the author: Andy Mack Jr is a member of the Granite State Ambassadors and grew up on a family apple farm in Londonderry NH. He is a radio broadcaster and writer. The native Granite Stater has a passion for New Hampshire's unique places, outdoors spaces, angling, culture and the arts. More at www.andymackjr.com