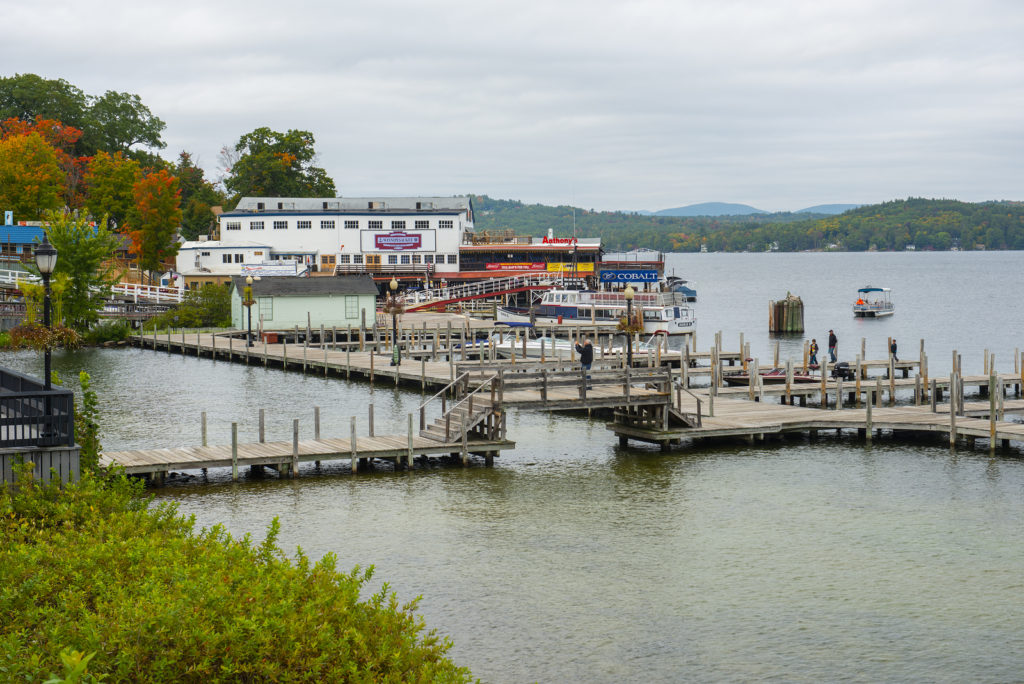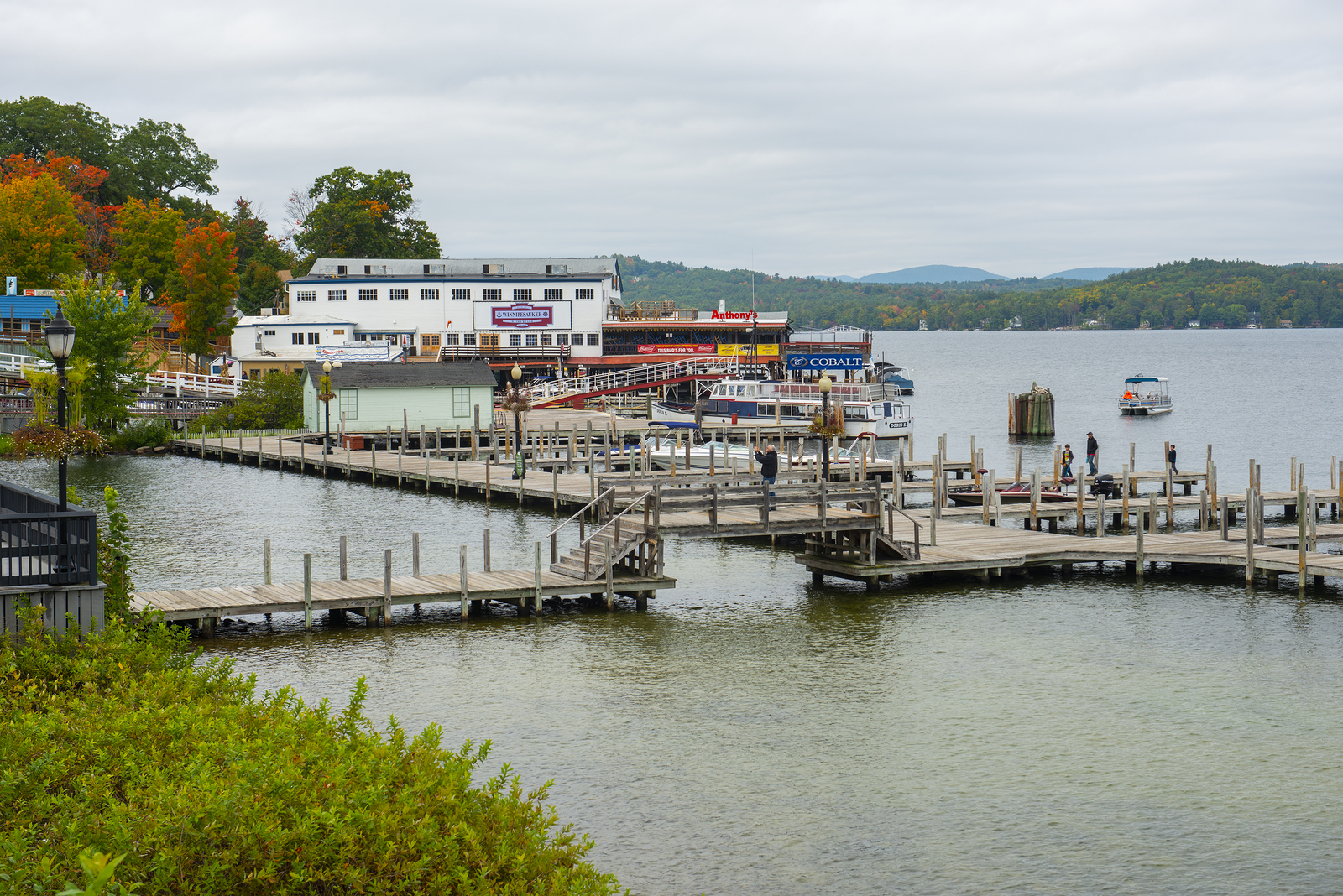 Of all the places to travel this summer, it could be argued that our New Hampshire Bed and Breakfast is one of the best.  Here, social distancing is just a normal part of our everyday life, with the outdoors being the prime focus of romantic getaways and adventures to the Lakes Region.  However, there are also a number of fun things to do in Laconia NH, which is just minutes from our charming Bed and Breakfast.
Laconia NH is one of the many small towns dotting the Lakes Region of New Hampshire and is perhaps best known for its annual Laconia Bike Week tradition. Laconia Bike Week typically takes place in June each year, but due to COVID-19 it has been rescheduled to August.  In the meantime, there are still plenty of things to do in Laconia NH that are worth your time. Come see just how special the Lakes Region is this summer, and book your room at our relaxing New Hampshire Bed and Breakfast today!
10 Great Things to do in Laconia NH
Laconia, NH, a town of just over 15,000 people, is located on the shores of Lake Winnisquam, though parts of the town extend to Lake Winnepesaukee. Downtown Laconia is only about a 12-15 minute drive from our Inn, though you could also boat there directly from here. Aside from boating and being out on the water, or hiking in the mountains surrounding these picturesque lakes, there are a number of things to do in Laconia NH and the surrounding areas.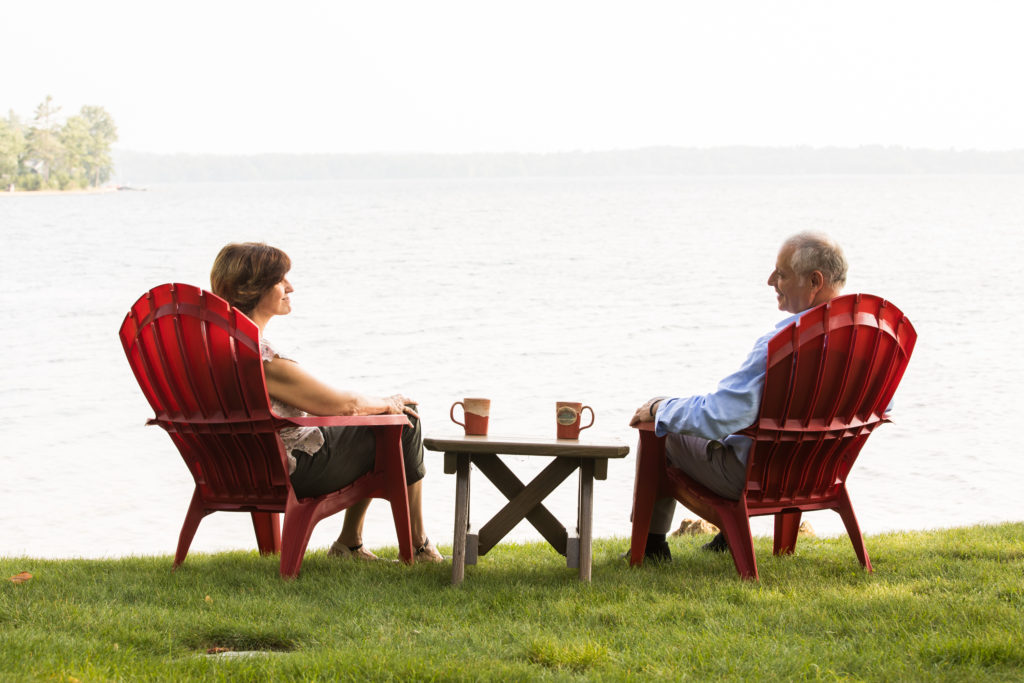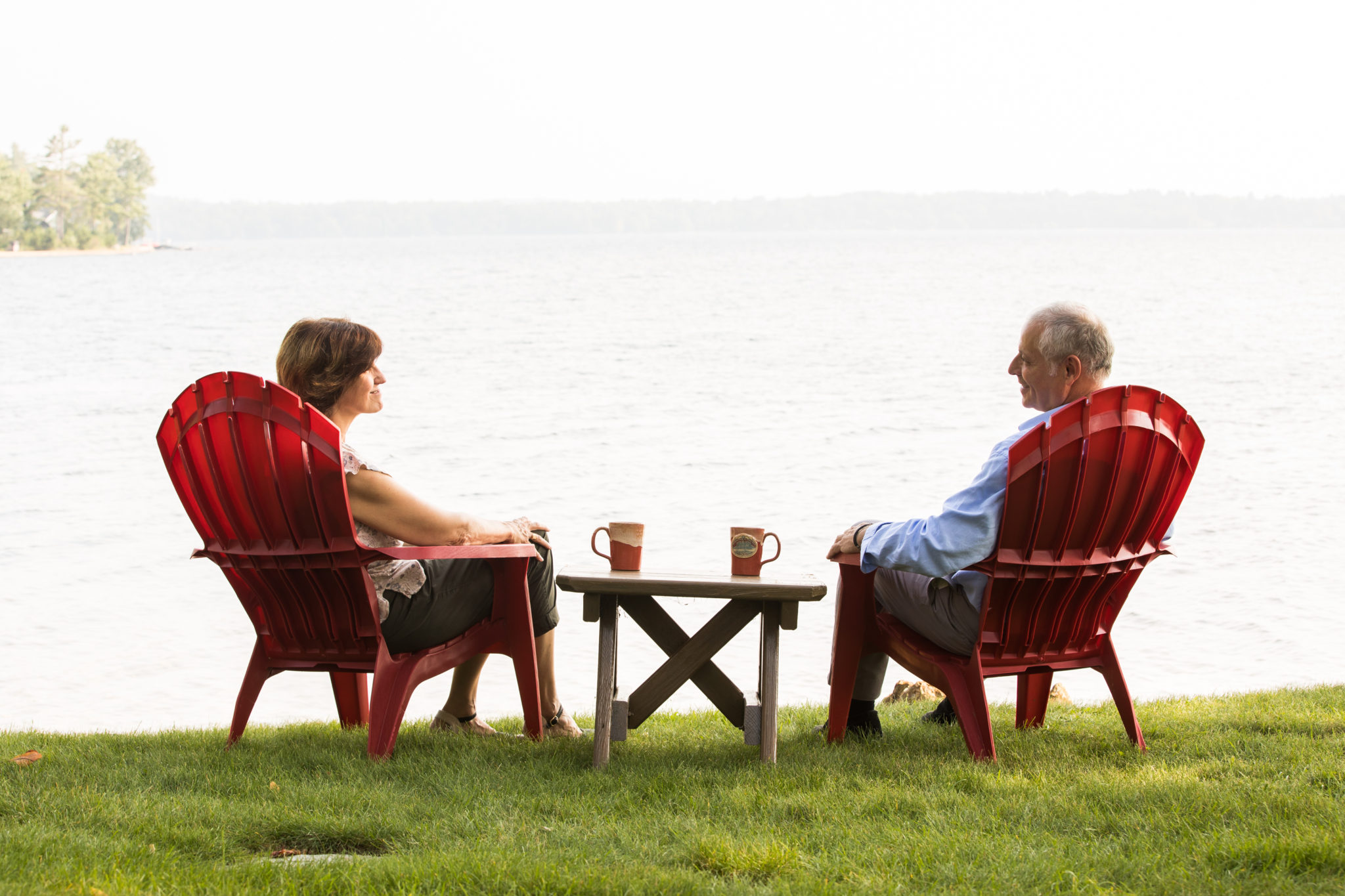 Here are a few of our favorites:
Of all of the wonderful things to do in Laconia NH, getting out on the water is arguably our favorite.  There are number places to kayak and canoe, but you should also make time for a cruise around Lake Winnepesaukee with Mount Washington Cruises.
Enjoy a scenic train ride through the area, which is particular magical during the peak of fall foliage. The Winnipesaukee Scenic Railroad offers one- and two-hour rides, providing glimpses of the lakes and other scenic parts of the region.
Though not directly downtown, Weirs Beach is one of the most popular attractions in the Laconia area. While there, don't miss the American Classic Arcade Museum. Also, a visit to Funspot is the surest way to get in touch with your inner child. Funspot is the largest arcade in the world, and includes more than 600 games, including a huge collection of Classic Videos and Pinballs, and so much more.
Visit the Belknap Mill, the nation's oldest, unaltered brick textile mill. They offer tours of the mill throughout the year.
Take a scenic flight over the Lakes Region, and gain a new appreciation for just how magical this part of the world is.
Shop for specialty goods at the stores in downtown Laconia and/or on Weirs Beach.
Explore Castle in the Clouds, a beautiful mansion that was built in 1914 and today offers tours.  There are also a number of hiking trails to explore on the grounds, which offer exceptional views of the area.
Head to Squam Lakes Natural Science Center, which hosts live animal exhibits, lake cruises for birding, and educational workshops focused on wildlife that inhabit this area.
Enjoy a little wine tasting at Hermit Woods Winery.
Head to the adventure park at Gunstock Mountain Resort, and enjoy a thrilling afternoon soaring above the trees or flying down their alpine coaster.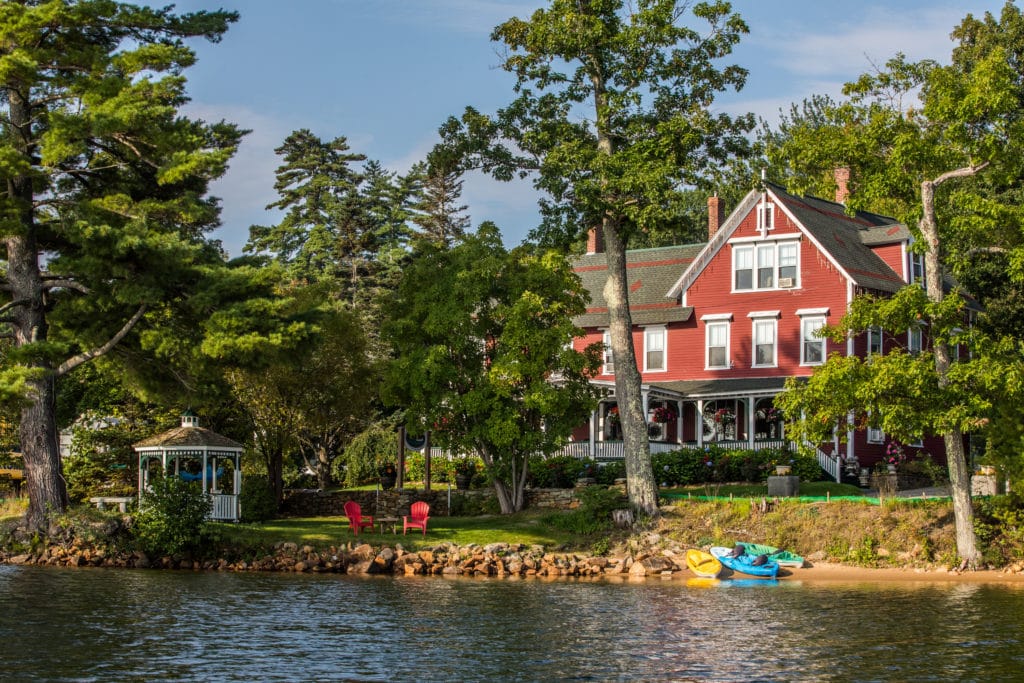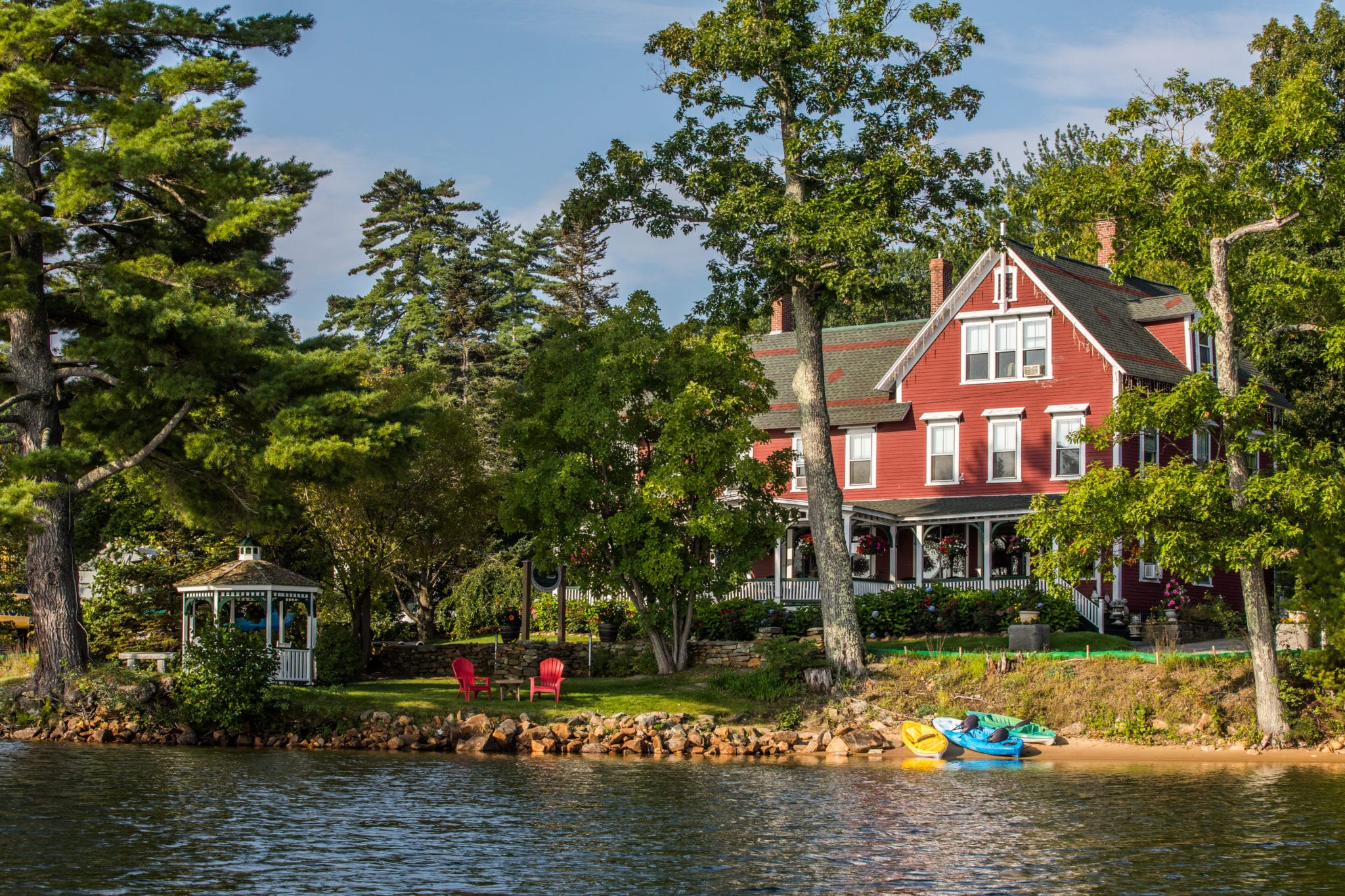 Relax at our Laconia Bed and Breakfast
It's true that there are many wonderful things to do in Laconia NH. More than is on this list, even. But it's not possible to do it all quite yet. New Hampshire's stay at home order is in effect through at least May 31, 2020. Accordingly, the attractions listed above are closed, and will be more suitable to visit later this summer and even into fall.  In fact, now is the perfect time to plan ahead for a fall getaway to the extraordinarily beautiful Lakes Region of New Hampshire.  As the weather begins to cool, the lakes are surrounded by a fiery display of fall foliage that has to be seen at least once in your life.
Laconia truly is a wonderful town, and there's a lot to do in the area.  When it comes to lodging, there's nowhere better than our lakefront Bed and Breakfast.  We offer a quiet retreat like no other. Come experience the difference this summer or fall, and book your room at our Laconia NH Bed and Breakfast today!