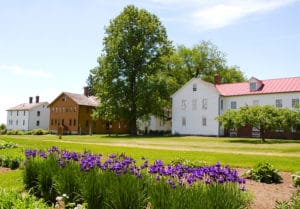 The state of New Hampshire is deeply rooted in history with towns that were founded as far back as the 1600's. Our beautiful Lakes Region also shares this rich connection to the past. Immerse yourself in history at our local museums and explored quaint New England towns on historic walks, all while enjoying the last of the brilliant fall colors. Then return to our charming guest rooms at The Lake House at Ferry Point. Here you can take in the tranquil lake views from our large porch or warm up in the living room by the stone fireplace. All you need to do is book one of our elegant rooms today to plan your escape.
Three Charming Historical Walks
After savoring a satisfying gourmet breakfast at our inn you'll be ready for a walking adventure. There are many charming towns and villages to explore in our region. Here are three that have fascinating self guided walking tours:
Laconia River Walk

– This walk will transport you back to the area's bustling industrial era, which saw the rise of textiles factories, woodworking shops, and foundries. Here you will find mills built in the 1800's that harnessed the power of the river. Many of the historic warehouses, homes, and churches are listed on the National Historic Register.
Northfield/Tilton Tour – 

Begin this historic walk on Veterans Square in downtown Tilton. This town had humble beginnings in the 1700's with its first store built in 1789. It grew into a textile and lumber hub, resulting in prosperity and rapid growth between the 19th and 20th century. The Victorian influence of that period is still apparent on the town's Main Street.

Plymouth Heritage Trail – 

This walk is part of a 230 mile statewide heritage trail that spans New Hampshire from Massachusetts to Canada. The entire trail is 5.6 miles and has many points of interest, so arrive early or explore it over several days. This fascinating walk includes buildings going back to the 1700's, a site that was a stop on the underground railroad, and the cottage of poet Robert Frost. It's certainly well worth the 35 minute drive from our inn.
Museums that Bring History to Life
With all this history it's no surprise that excellent local museums can be found nearby. History comes alive with an artist's interpretation, a hands-on demonstration or stepping into a re-creation of the past. Here are three museums that all find creative ways to present our heritage.
Canterbury Shaker Village – This preserved Shaker community is a living museum with 25 restored buildings on 694 acres. Plan to spend the entire day exploring the grounds and historic buildings. Guided educational tours are available on topics like woodworking, gardening and the daily life of Shakers.  In addition are workshops on making a Shaker broom, a folk art doll, or herbal body care products.
Museum of the White Mountains – 

If you walk the Plymouth Heritage Trail plan on visiting this excellent museum as well. Here they preserve and present the local history through paintings, photography, sculptures, personal journals, and antique books.

Wright Museum of WWII –

This museum focuses on the contributions of Americans during World War II, honoring the soldiers and those on the homefront.  Displays include military vehicles and uniforms, and also a full size period kitchen and soda shop. You will truly feel like you stepped back in time with these exceptional exhibits.
Visit the beautiful Lake Regions this fall and enjoy the local history in our charming towns and museums. Our serene lakefront Bed and Breakfast will transport you to another time while offering all the comforts needed for a relaxing getaway. Book a room with us today.