New Hampshire's Maple Weekend, March 23 & 24th, 2013
Right around the time that the cracks form on Old Man Winter's armor comes the sweetest time of year in New Hampshire. Snow still coats the ground. The nights are frosty. But as the days continue to stretch towards summer, daytime temps creep above the freezing mark. Before the first crocus pokes through the snow and hibernating animals wake from winter's sleep, sap starts to flow in the sugar maples and an age old tradition reawakens. It's maple sugaring season.
Hardy New Hampshire maple producers tap trees, set lines and buckets and collect the sweet sap of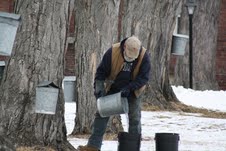 the sugar maple. Carting the sap back to the sugar house, they boil it down with great care to make maple syrup. Approximately 40 gallons of sap must be collected to make a single gallon of delicious, sweet, maple syrup. It's hard work. Maplers wade through the snowdrifts to reach trees marching up hillsides, totter back down with heavy buckets, or clamber into the back of a 4WD pickup to pump sap from collection tanks. They labor long nights at the boiler: reducing, finishing, filtering and bottling the sweet product. No one gets rich doing this work. One mapler told me that when he calculates all his time put into the process, he figures he makes nearly minimum wage. Then his eyes twinkle with pride as he offers a taste of his fine product. This is something that is done for the love of it and for the gratification of keeping tradition alive.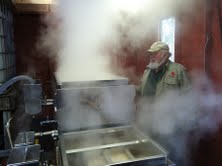 The craft of producing New Hampshire's maple is celebrated each year by producers all over the state during Maple Weekend, being held the weekend of March 23rd & 24th, 2013. According to the New Hampshire Maple Producers Association, 110 sugar houses participated in Maple Weekend in 2012, holding open houses all over the state.
Not far from The Lake House at Ferry Point is Just Maple, at Green Acres Farm in Tilton. Their sweet maple syrup is served here at breakfast. At their Tilton farm, owners Roger and Barbara Proulx hold a warm and welcoming open house each year. The annual event features local entertainment, maple demonstrations, tours and sampling. Admission is free.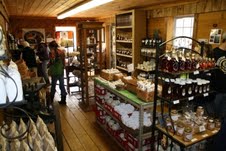 At Just Maple, there is a tidy little store, chock full of delicious goodies, housed in a handsome post and beam barn. The star of the weekend is the sugar house, constructed in the traditional style with large vents in the roof to allow steam from the evaporator to escape. The boiler is wood fired and the smell of the sweet steam and wood smoke is enchanting. At Just Maple, they produce many different maple products; from syrup to maple cream and candies, to maple coated nuts and kettle corn. Highly recommended, try the maple cotton candy. Its "guilty pleasure" defined.
Experience a time honored tradition of New England hospitality. Visit New Hampshire for Maple Weekend!
Links:
NH Maple Producers Association
Just Maple at Green Acres Farm, 475 School St, Tilton NH map
http://www.justmaple.com
About the author: Andy Mack Jr is a member of the Granite State Ambassadors and grew up on a family apple farm in Londonderry NH. He is a radio broadcaster and writer. The native Granite Stater has a passion for New Hampshire's unique places, outdoors spaces, angling, culture and the arts. More at www.andymackjr.com