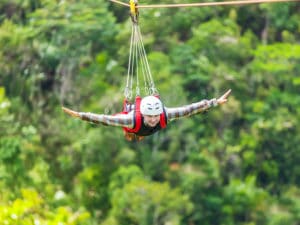 Gunstock Mountain transforms into a summer playground after the snow melts. Thrill seekers fly through the canopy on ziplines, navigate New England's largest aerial obstacle course, and swoop down on a mountain coaster. Spend a relaxing day tubing, paddle boarding or kayaking on the water. The ski lifts now transport visitors to the summit for mountaintop yoga, hiking or a picnic lunch with knockout views of surrounding mountain ranges. Additionally the resort hosts many arts, music and sporting events throughout the season. After a day of excitement, return to your relaxing suite at The Lake House at Ferry Point Inn on Lake Winnisquam. We are the only lakeside bed and breakfast in the charming Lakes Region of New Hampshire. Enjoy a restful nights and wonderful, hearty breakfasts before starting a new day of outdoor adventures. Book your getaway with us today and explore the stunning Lakes Region this summer.
Gunstock Mountain Hosts Fun Summer Events
Gunstock becomes the stage for summer music, arts, sports and food events. Come out and listen to great music in a beautiful setting. Stroll an eclectic craft fair or sample tasty BBQ and brews at a food festival. Pick a summer event to top off your summer vacation:
Road Jam Music Fest (7/14 to 7/15) – The Two Roads Brewing Company brings the Road Jam Music Fest to the resort with many diverse bands.

Miss Winnipesaukee & Miss Weirs Beach Contest (7/21) – This preliminary competition for the Miss New Hampshire contest, includes all the pageant events such as a talent show, swimsuit and evening wear competitions.

Soulfest (8/2 to 8/4) – A joyful Christian music and social justice festival, that also includes workshops and outdoor activities for the whole family.

RedEyez 24 Hour Mountain Bike Race & Relay (8/11) – Mountain bikers push themselves to the limit in this 24-hour race through the woods.

Gunstock Mountain Brew and BBQ (8/24 to 8/25) – Top off summer with great beer and BBQ at this tasty two day festival. Sample over 30 different New England beers and ciders with great food and live music.

Labor Day Weekend Craft Fair (9/1 to 9/3) – Beautiful handmade furniture, glass arts, jewelry, and quilts are just a sample of the variety found at this vast celebration of arts and crafts.
Discover Adventure on Gunstock Mountain
Add adventure to your vacation this summer. Fly through the canopy on ziplines, balance on treetop obstacle courses or swoop down the mountainside on a gravity powered coaster.  Gunstock has one of the longest zipline tours in the Continental United States. NH Zipline Tours offers training with experienced guides that will take visitors soaring through the treetops. The tours take over 1.5 hours and travel more than 1.6 miles. Enjoy the view or fly down at 60 mph, the speed is up to you. The Aerial Treetop Adventure (ATA) offers 8 courses. Challenges are design for kids, and many levels are offered for adults. Navigate through log ladders, bridges, swings, seesaws, footbridges and lots of ziplines. Then top off your day with a Mountain Coaster ride. Grab a friend and let gravity take you on a wild ride, banking through the forest and down the mountainside.
Enjoy the Natural Beauty of Gunstock Mountain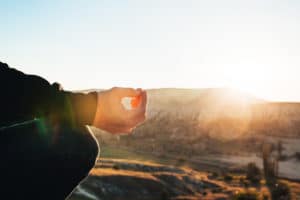 Escape to the beautiful outdoors on a scenic lift ride, hike, bike ride or paddle around the resort. The 15 minute scenic lift rides to the summit offer sweeping views of Lake Winnipesaukee, Mount Washington and the Belknap, Ossipee, Squam and Presidential mountain ranges. Pick up a hiking trail at the top and explore the mountain. Or start your day with a Mountaintop Yoga practice with majestic views of Lake Winnipesaukee and surrounding mountains. Cool off playing on the water while kayaking, paddle boarding or tubing. Anglers love the 3-acre fishing pond stocked on a regular basis through the summer by NH Fish and Game. In addition to hiking trails, visitors can mountain bike, take an off road segway tour, or explore the wetlands boardwalk. Check out the trails to plan your perfect outdoor experience.
Gunstock has all the magic of a summer spent in the beautiful Lakes Region of New Hampshire. Flying on ziplines, serene forest hikes and entertaining festivals are all found at this grand mountain resort. After your adventures return to The Lake House at Ferry Point Inn to watch the sunset on Lake Winnisquam. Reserve your luxury suite with us for an unforgettable summer trip.