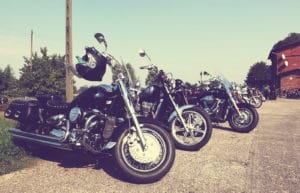 It's not hard to find reasons to visit New Hampshire's Lakes Region, especially during these beautiful spring and warm summer months.  This central portion of the state is known for its many picturesque lakes, and charming, quaint lakeside towns that dot the region. It's long been a popular summer destination for people from all over New England. Nearby Laconia also happens to be a major destination for motorcycle enthusiasts each year.  In fact, Laconia is home to the world's oldest Motorcycle Rally.  Now is the time to make reservations for your accommodations during Laconia's popular Motorcycle Week, and there's no better choice than our beautiful Lake Front Bed and Breakfast.  We'll serve as your quiet respite during what is otherwise a busy week here in the Lakes Region.
Laconia Motorcycle Week
This year, the Laconia Motorcycle Week will be taking place from June 10 – 18, 2017.  There are a variety of motorcycle rallies held throughout the country each year, but none older than the one held in New Hampshire's beautiful Lakes Region.  In fact, the state of New Hampshire is home to the 2nd largest demographic of motorcycle riders in the country, thanks in part to the unbelievably scenery enjoyed on the open roads throughout the state. Events will include races, hill climbs, stunt shows, charity rides, and incredible street scenes.  Motorcycle Week is a fascinating event, even if your just a spectator.  Here are a few highlights happening throughout the rally week:
Whether you've come every year or never managed to find the time for Laconia's Motorcycle Week, make this year better than ever. Book your room at our New Hampshire Bed and Breakfast today, and leave feeling relaxed. Don't forget to make plans to come visit us later in the summer, too!