Monty, Jeannette and Rebecca first stayed at the Lake House as guests and loved the classic, yet comfortable atmosphere. Just the type of place they were looking for in a Bed & Breakfast to buy.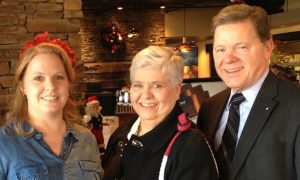 Rebecca had dreamed of running a B&B for a long time. She always enjoyed traveling around the world and staying in unique places. Her experience in hospitality and the service industry has prepared her some for the role as innkeeper. After living 10 years in Worcester, MA she knew she wanted to be in New England to fulfill this dream.
Being from the Midwest, Monty and Jeannette have lived in many places around the country from the West Coast to the East Coast during his working career. His work in the shopping center industry and restaurants has exposed him to many aspects of successful businesses  that can be applied to inn keeping. Jeannette would consider herself a great recipe and cookbook collector . She enjoys serving dishes that are pleasing to the eye, as well as, the pallet .
After Monty's retirement, the Daniels decided the time was right to pursue Rebecca's dream of innkeeping and Monty and Jeannette's desire of having a family business in a beautiful location.
We have been able to meet and serve many wonderful people from all over the United States and around the world and look forward to meeting many more here at the Lake House at Ferry Point in beautiful Sanbornton, New Hampshire.